Cylinders with built-in magnet for position sensoring.
Please notice that you have to add 12 mm for the built-in magnet ( M ) to the A and B measure for all cylinders.

The sensor is easily fitted externally on the cylinder tube by means of a stainless steel clip.
If required, a number of sensors may be fitted on one cylinder.

Please notice, the sensor can only be used on cylinders with built-in magnet.
Magnetic Field Sensor
BMF 305 with 5 meter cable and LED, IP 67.
Cylindre med indbygget magnet for positionering.
Bemærk, at man skal lægge 12 mm for den ind vendige monterede magnet ( M) til A og B målet på alle cylinderne.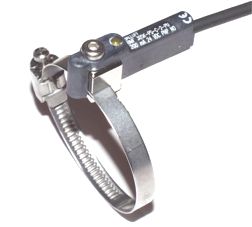 Til montering af sensoren hører et rustfrit spænde- bånd, som er let at fastgøre udvendigt på cylinder røret.Der kan monteres x-antal sensorer på cylinderen efter ønske.

Bemærk, sensoren kan kun anvendes på cylindre med indbygget magnet.

Magnetfeltssensor
BMF 305 med 5 meter kabel og lysdiode, IP 67.